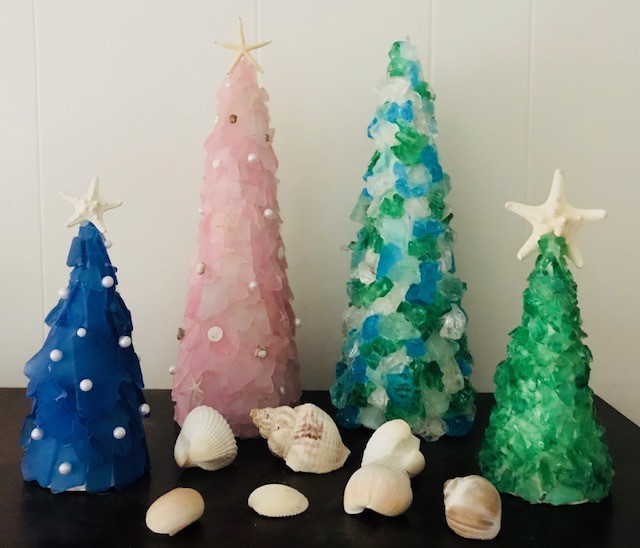 Make a set of 2 beautiful Coastal Glass Trees using Faux Sea Glass. Finished trees will be 4.5 to 5 and the other 7.5 to 9 inches tall. Assorted color availability including turquoise, sea blue, green, red, crystal white, pink, orange, yellow and plum Keep them simple or embellish with a bit of decor. Great seasonal display or keep out year-round.
Everything you need to make 2 complete trees included.
Hot glue guns will be used. Access to one 3 prong outlet will be necessary for each 6 guests.
2 Hour Workshop
Public Workshops
Saturday, September 23, 2023 – Sea Glass Tree Workshop (Large Tree) at Serendipity, Hudson, MA
Wednesday, November 8, 2023 – Sea Glass Trees at Bay Path at Night - Charlton, MA
Monday, November 20, 2023 – Sea Glass Trees at Bay Path at Night - Charlton, MA
Tuesday, November 28, 2023 – Sea Glass Tree at Worcester Nightlife - Worcester, MA
Thursday, November 30, 2023 – Sea Glass Trees at Foxborough Adult Education - Foxborough, MA
Wednesday, December 13, 2023 – Sea Glass Trees at Keefe at Night - Framingham, MA
Private Workshops
Cost: $59 per person. Minimum 6 guests – maximum 18. If you have more than 6 guests, host pieces are complimentary. (Does not include fundraisers)